Riyadh and Abu Dhabi graduates leave calling card on campus
Last month, alumni from Riyad, Saudi Arabia and Abu Dhabi, UAE gathered on the thirteenth floor of the Business Building on the Beirut campus for separate ceremonies. Representatives of LAU's Riyadh alumni chapter were on campus to celebrate a unique gift that the chapter was providing to the university. Soon a plaque was unveiled, officially renaming Room 1309 after their alumni chapter. This was an exciting and important milestone for LAU. Not long after, another opportunity arose, when the Abu Dhabi chapter offered to do the same for a computer center right next door in the Business Building.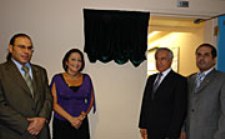 Riyadh's alumni chapter had been collecting funds from its members to give back to the university that provided them with so much. "I feel proud that we are graduates of this university," Marwan Daoud, the president of the Riyadh chapter, said during the naming ceremony. "We belong to this university, to this community." And it is that spirit of community as well as the desire to stay connected and give back that drives such gifts to LAU. Abu Dhabi's chapter has also strongly supported its alma mater, holding a gala in May for LAU's benefit. The alumni in Abu Dhabi were able to convince 120 guests to celebrate the university's progress, while offering their contribution. Faisal Saab lauded his fellow alumni in Abu Dhabi while speaking at their ceremony at the Business Building, saying "they love whatever they're doing for the chapter and for the university in particular." Saab also praised the initiative surrounding the naming ceremonies, saying "everyone will know that the chapters are doing things, especially the students. It's nice to be recognized, as a chapter, for all of its work."
The Riyadh and Abu Dhabi chapters have blazed a trail that the university expects others to soon follow. Given the fact that alumni chapters are focused exclusively on the university, and the fact that they provide strength in their numbers, gifts from alumni chapters can be particularly powerful for providing valuable support to current LAU students or facilities. And, as the naming of a classroom and computer center in the Business School shows, it can be a meaningful way to provide exceptional support.
In this issue:
Join us on Facebook: