Marla Rice-Evans becomes Vice President for University Advancement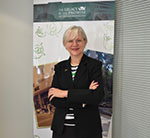 Mrs. Marla Rice-Evans joined LAU as Vice President for University Advancement in May 2014.
In her role, Mrs. Rice-Evans is responsible for developing and maintaining relationships between LAU and its key constituencies, including alumni, corporations, foundations, and other friends who share the university's values. As head of University Advancement, she also oversees the $50 million LAU fundraising campaign "Fulfilling the Promise" and supervises university communication with the LAU community and the media, relations with LAU alumni chapters throughout the world, and development of a consistent visual identity and branding strategy for the university.
Before joining LAU, Mrs. Rice-Evans was Associate Vice-Chancellor of Advancement and campaign director at the University of North Carolina Wilmington. Under her leadership, the institution's campaign exceeded the goal of $65 million 11 months in advance of the goal date. She also doubled both scholarships and distinguished professorships, setting an example in that regard by establishing the Marla Rice-Evans Scholarship in International Relations, in 2010. At UNCW's Advancement Division she also managed social media programs, outreach and communications.
From 1979 to 1997, she held various key positions in prominent institutions and organizations, being grants consultant at Monmouth College; interim executive director and director of development at the Foundation for Children with AIDS-National Foundation Roxbury, Boston, Massachusetts; executive director at Piedmont council of the arts in Charlottesville, Virginia; director of development and general manager at the Metropolitan Arts Council of Omaha; and associate director of the art school at the Center for the Visual and Performing Arts in Chapel Hill/Carrboro, North Carolina from 1979 to 1984.
In addition to her professional engagements, Mrs. Rice-Evans has had a passion for painting for more than 30 years. Her personal website shows a selection of her works that were exhibited in several art galleries across the United States. As of 2014, she serves as an advisor for the Global Alliance for Arts & Health (Washington, DC).
Mrs. Rice-Evans holds a master's in political science from Western Illinois University, a Teaching Certification in the Education of French from the University of California, Berkeley, and a B.A. in French Language from the University of Nebraska at Omaha.
Contact:
Mrs. Marla Rice-Evans
Vice President for University Advancement
Lebanese American University
Tel: +1 (212) 203-4333
Fax: +1 (212) 784 6597