Ed Shiner, Director of Alumni and Special Projects
Ed Shiner, Director of Alumni and Special Projects

Mr. Ed Shiner is in charge of organizing LAU's alumni within North America. He's currently gearing up for the annual North American Alumni Gathering in Las Vegas later this month. We recently caught up with Ed and asked him a few questions about LAU's alumni relations organization in North America:
Can you explain to us how the alumni relations team at LAU is organized?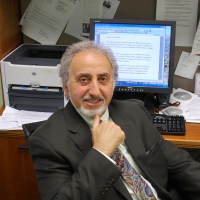 The alumni relations team is one entity with two bases of operations: The Beirut office and the New York office. The Beirut office handles the alumni of the Middle East and Europe and the New York Office handles all of North America (USA, Canada and Mexico). We work as a unified team coordinating our efforts and, when possible, we strive to participate together in key functions.

Tell us a little bit about the upcoming National Alumni Gathering of North America.
This event is very new. We'll be meeting in Las Vegas, NV Feb. 26-28 for our Second Annual National Alumni Gathering with the purpose of bringing our alumni and alumnae together to get to know each other, learn more about how to strengthen our alumni network and connection to the university, share our life stories and basically to cement the bonds of this extended family of LAU, BUC and BCW.
The event is a combination of social and educational functions opening with a welcome reception Friday night at the Trump International Hotel; two presentations Saturday morning, a dinner Saturday night and a Farewell Brunch on Sunday. In between these events there will be some other fun activities, including sight seeing in Las Vegas and the surrounding area. Participants have a special hotel rate for several days before and after the weekend so it can become an extended vacation. Hotel reservations are still being accepted and advance registration can be done through the New York Office.
Interested alumni/ae should contact me at ed.shiner@lau.edu for more details.
How many alumni chapters does LAU have in North America? How has it grown over the time you've been in your position?
We currently have ten alumni chapters in North America. When I came to LAU in October 2006 we had only one official chapter - Toronto, Canada. Since then we've added nine new chapters, which are slowly developing - some more quickly than others, but this is a new experience for our alumni/ae and it's going to take some time for them to grow and become more active.
You must face some unique challenges organizing alumni who now live so far away from their alma mater. Can you tell us what that's like?
Actually the fact that our North American alumni/ae live so far away from their alma mater is not something that I view as a "challenge." On the contrary, I see it as a positive factor for promoting and developing our chapters. We hope that our alumni/ae will recognize and appreciate that a local chapter, or even regular contact from our New York office, helps to create a feeling of their "extended family of LAU," especially since they are thousands of miles away from their alma mater and, for many, their families in Lebanon.
The real challenge that we've encountered is twofold: everyone is busy with their work and family schedules; and adapting to this new idea of a local chapter that requires action, nurturing and ongoing planning. Hopefully, in time, this new concept of a local chapter will become more familiar and easier to approach.
Can you give us some examples of the sorts of activities that alumni chapters engage in? What services do they provide for their members?
We have had several chapters do family picnics, some have begun simply by having a "happy hour" somewhere, while others have done a Saturday afternoon of bowling and a movie. The local chapter's creativity is a key factor here and we're working on that. We are encouraging our chapters to do at least one or two major activities a year, with one of them being an annual dinner gathering.
At this time, the local chapter's main "service" is basically to "be there" for our alumni/ae so that they can get to know each other and feel a common bond as fellow graduates, and to network with each other for jobs, business and social connections, legal issues, etc., Our New York office is also a good resource and provides various services to all of our North American alumni/ae. In short, we want our alumni/ae to recognize that they can be of service to each other through their chapter and that the university is ready to help them - either individually or through their chapters. As LAU President Dr. Jabbra has told our alumni/ae many times "what can you do for each other and what can we do for you."
What other events and activities do you have planned in the future?
On this side of the world our annual gathering for North America is the main event outside local chapter functions. Internationally, our annual alumni/ae homecoming events at both campuses in Lebanon are an important opportunity for our graduates to "return home" and connect with friends and faculty. As our local chapters grow and develop, I have some ideas for them to pursue that would involve their direct interaction, but we're not ready for that yet!
On April 30th, LAU's New York office will host its Inaugural Gala in New York City. While this event is not exclusively an alumni/ae event - it's open to everyone from all over North America - we certainly hope to see many of our alumni/ae in attendance.
You travel all over North America, what is your favorite place to visit?
My favorite place to visit is my place of residence - New York City. In my opinion, nothing compares with it!
---