Live Chat with Salma Abdelnour, author of Jasmine and Fire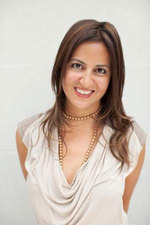 Join us for a special live chat on Tuesday, June 5 at 12 noon (Eastern Time) for one hour with food and travel writer—and colleague and friend of LAU's—Salma Abdelnour. Salma will be chatting about her new book Jasmine and Fire: A Bittersweet Year in Beirut (Broadway Books).
During Lebanon's civil war in the early 1980s, nine-year-old Salma and her family fled Lebanon to start a new life in suburban Houston. Ever since then— even as she built a thriving career as a food and travel writer in New York City—Salma had a hunch that Beirut was still her home. She kept dreaming of moving back—and finally decided to do it.
But could she resume her life in Beirut, so many years after her family moved away? Could she, or anyone for that matter, ever really go home again?
Jasmine and Fire is Salma's poignant and humorous journey of trying to resettle in Beirut and fumbling through the new realities of life in one of the world's most complex, legendary, ever-vibrant, ever-troubled cities. What's more, in a year of roiling changes around the Middle East and the rise of the Arab Spring, Salma found herself in the midst of the turmoil, experiencing it all up close.
As she observes the upheaval in neighboring countries, Salma reflects on Lebanon's own history as a place of recurring sectarian and cultural clashes, and on how that impacts the sense of home. Yearning to find her place in Lebanon again, she ponders the ways in which the country still does feel like home to her, in a profound sense, and the ways in which it sometimes doesn't.
As she confronts those questions and comes to grips with all the changes in her life—a love left behind in New York and new relationships blossoming in Beirut—Salma takes comfort in some of Lebanon's enduring traditions, particularly its extraordinary food culture. Through the sights, sounds, and flavors of a city full of beauty, tragedy, despair, and hope, Salma slowly begins to reconnect with the place she's longed for her entire life.
___
During the chat you can follow along below and submit your questions to Salma (or you can follow the chat from our Facebook page as well). If you can't join us live during the chat just click on the email blow to submit your question to us and we'll ask Salma during the chat. You can also provide your email below to receive a reminder about the chat before it takes place.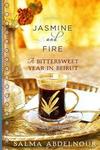 Salma Abdelnour has been the travel editor of Food & Wine, the food editor of O, The Oprah Magazine, and the restaurant editor of Time Out New York. For more information visit salmaland.com. You can purchase Jasmine and Fire at your local bookstore, at Amazon or at BN.com. For more information please visit jasmineandfire.com.
---