Ayman Itani, Social Entrepreneur
Ayman Itani, Social Entrepreneur, Media Professor, Public Speaker
Ayman Itani is a social entrepreneur who takes on social issues and applies entrepreneurship principles to identify core problems, highlight core competencies, build sustainability, and manage the endeavor to bring about social change and a solid business case. He also teaches the LAU course "Media, Culture, and Technology" that aims at enabling Communication Arts (journalism, radio, TV, film, and theater) to adapt and fully take advantage of the industry shifts incubated by the Internet, specifically: content generation, consumption, distribution, and commercialization. We asked Ayman some questions about the changing media landscape.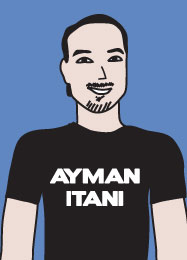 You seem to be engaged in a lot of different things. Tell us a bit about your background and what you do.
I consult existing mass media conglomerates in building their Emerging Digital Media Ecosystem that extends their online and mobile presence to attend to the growing user needs and expectations, to generate additional revenue from existing efforts in media production, to enhance social community building and engagement, and to future-proof the media production process.
I regularly speak about convergence of communication, media, user interaction design, history of technology, Internet architecture, and the social web.
I teach at LAU the class on Digital Media that addresses the evolution of traditional media from its early origins to its present-day highly evolved Internet format, sheds light on the underlying sociocultural factors that have contributed to the growth of Internet content that is competing with long-established traditional media, and helps students take the theory and techniques they have learned in other courses and apply it to an Internet audience.
Moreover, I devised a Digital Media Program that is tailored for veteran journalists and is the first comprehensive digital media program of its kind in the region. The objective is to give high-caliber training to senior media professionals. It is customized for: highly-seasoned veteran journalists from different media backgrounds, senior TV producers, public relations veterans, and award-winning filmmakers interested in establishing an online presence and acquiring the needed skills and knowledge to share their work and ideas online. The Digital Media Program is public and is given at LAU.
You just finished your first semester teaching the new LAU class "Media, Culture, and Technology." Tell us what that was like?
"Media, Culture, and Technology" class focuses on how contemporary media is shaping our current day-to-day lives and the major contribution of the Internet to how media is currently being designed, created, and shared. We examine cultural and historical parallels with traditional forms of media and use new media as both a topic of analysis and as a mode of expression and explore the complex social, economic, historical, and technological developments that influence the impact of information on society.
It was an amazing experience spending extensive time with the students talking digital media throughout the whole semester. I particularly enjoyed seeing them go through different gradual phases of: curiosity, skepticism, interest, and at the end completely embracing digital media.
The last few weeks of the semester are the most intense as this is when you have really insightful discussion on what the changes in media mean, with specific applications to them as individuals and soon-to-be professionals.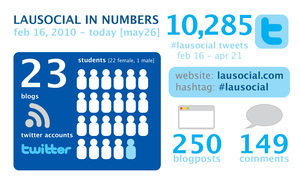 This infographic (click on the image for a full-sized view) summarizes the outcome of the whole semester as well as the potential and capabilities of the students.
I am proud that they are now members of the online community and that they are contributing to it, each in his / her own capacity.
(To keep track of class updates, visit
lausocial.com
or on twitter refer to the hashtag #lausocial)
Given the ways in which communication has changed over the last few years we seem to be in the middle of a revolution. What do you make of social media and this new media revolution? In what ways is it good, and it what ways is it bad?
Social Media has affected online communication for individuals as well as for businesses. Individuals express themselves more regularly, share their thoughts, concerns, and experiences to the online community around them.
From a business point of view, some industries such as traditional media are being fundamentally changed as their tried-and-true business model no longer stands and requires significant changes to become viable again . One significant example is Newsweek going up for sale in May due to continuous losses in 2008, 2009, and 2010.
I wouldn't go that far and call the new media revolution "bad"; however, with the growth and ubiquity of new media more information is coming our way and we need to make sure to put better filters in place to get the information of most interest to us, otherwise unnecessary distractions are likely. Moreover, businesses will need to actively look into the additional revenue streams and the cheaper production models that are now possible with new media.
How well do you think universities are adapting to the rapid changes is communication in recent years? Are they doing enough to stay on top of things?
Universities worldwide are gradually adapting to the rapid changes, especially that the majority of their users are already well-vested in this medium and spend most of their time there. However, universities struggle like any big business with hesitation to change the status quo, bureaucracies, and a slow roll-out process.
The interesting part about LAU is that it has recognized the importance and the inevitability of digital media and is embracing it on multiple layers:
at the student level by introducing the Digital Media class we are teaching
at the top-tier of university communication to update existing students, prospective students, faculty, alumni, and supporters
at the community level by offering the Digital Media Program to veteran journalists
Gradually over time, all the layers of the university will be involved in digital media in a form or another.
In many ways Lebanon seems to be at the cutting edge of social media, particularly with Facebook, what are your thoughts on Lebanon's place in this new media revolution?
The Lebanese community is highly engaged online and involves active community members from the different walks of life. What I find particularly interesting in the online community of Lebanon is that it mirrors specific values of the Lebanese society in terms of kindness, help, hospitality,…onto the online world. There is always a helping hand very close at hand to answer specific questions, make introductions,…
Specifically in terms of the digital media class at LAU, the online community in Lebanon was thrilled that such an important topic is now being taught at a university level and proceeded to embrace the students as their own (although the students weren't exactly at an advanced level yet as the semester had just started). The culmination of the semester was when the class participated at
GeekFest
, an offline event that brings together most of the online community. Students gave a presentation on how their online life changed for them after the course and thanked the community that embraced them from the very start. As more and more students take this course over the semesters, we will on a regular basis contribute to the online community.
---