Christian Jr. Oussi, LAU intern in Paris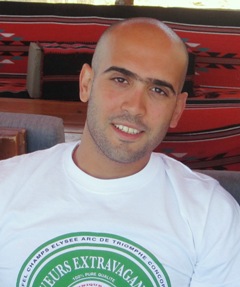 Computer engineering student
Christian Jr. Oussi
had a two-month-long internship with industrial gas and services provider Air Liquide in Paris, France last summer where he worked alongside two dozen other students from eighteen countries. We asked him a few questions about his experience during this unique internship.
You had a very unique internship experience at Air Liquide. Can you share with us what was the best part of working there?
During my two months stay in Paris, I lived one of the best experiences of my life, and for that reason it's really hard for me to state which part of this internship was the best. Would it be Paris by itself, the friendships I built with people from all over the world, the responsibility I was given by my project manager, the ability to manage an independent life, or the final outcome of my internship? All of those are benefits I've gained throughout my stay, and memories I will keep with me forever.
But honestly, the thing that I am proud of the most, the best part of my work experience, was that I was able to compete with top students from top universities, and prove that LAU students can be as good as those students.
While at Air Liquide, you worked in culturally diverse teams from around the world. What did you learn from that experience? Was there anything that surprised you?
Working with people from different backgrounds, different cultures, and languages was exceptional. I learned to be flexible in my opinions, to accept others point of view, to communicate efficiently with team members not that fluent in English. I also learned a lot of the other interns' cultures, and languages. I especially enjoyed learning some Japanese and Chinese words. We also had an international dinner twice a week in our place of residence, during which interns from a specific country would have to cook their national recipes. Tabbouleh, hommos and labne were the most appreciated dishes, as expected!
I am happy that through this experience I was able to show the real image of my country, for people that believed that Lebanon is a country of war. On the other hand, I noticed that all the interns had the least interest in internal politics, a daily topic for the youth of Lebanon.
To be honest, I was surprised when learning about some cultures: Throwing chewing gum on the sidewalks in Singapore was a crime, samurais and kamikazes were not considered war heroes by all Japanese, and Swedish students get paid to go to college, and not the other way around!
Living in France must have been very different from your daily life in Lebanon. What did you enjoy most about life in Paris? Did you speak French prior to moving there?
What I enjoyed most about life in Paris was its beauty. I have visited Paris many times before, and still was amazed by this city. Being the museums, the historical monuments, the Tour Eiffel, or the nightlife, Paris is one the most beautiful cities I have visited.
However, living in Paris was very different compared to living in Beirut. I didn't drive my car everyday; instead I used the metro and the bus. I didn't have my mother prepare my breakfast before I go to college, or cook me dinner when I come back home. I cooked my own food, ironed my clothes, and did my laundry.
And still, with all those changes, I familiarized with Paris, and felt like home, mainly because I speak French, and I was surrounded by family and friends during my stay in France.
Where do you hope your internship experience will take you in the future? Do you plan to work at Air Liquide?
Working for a big company, such as Air Liquide, will have a positive impact on my future career. It surely is a plus on my resume! Right now, I am now planning to do my masters degree, so I don't think I will be working for Air Liquide after I graduate from LAU.
However, during my stay in Paris, I had multiple interviews with the company, and I think that Air Liquide would be one of my options after I finish my studies. I really enjoyed working for this company, and I also believe that I have proven myself, and shown my capabilities.
The International Internship Program is not just an internship program. It allows the company to recruit young graduates, and statistics from this program show that on average one third of the interns get employed by Air Liquide.
What advice would you give to other computer engineering students when applying to internships?
The internship selection process was complicated, and consisted of two phone interviews, and two face-to-face interviews. I believe Air Liquide chose me, out of the 250-300 participants, because of my strong academic background and high GPA, my extracurricular activities, being the chair of the IEEE student branch at LAU, and computer engineers representative in the school of engineering Student Affairs Committee for the past two years, in addition to my self confidence and good communication skills, in both French and English.
My advice to my colleagues in computer engineering would be to strengthen their resume, in order to increase their chances in obtaining their desired internship, by working hard on obtaining good results in college, and being active in their field of study.
Also, I advise them to heavily search for internship opportunities, and not wait for the opportunity to come by itself.
One final piece of advice: be cool during interviews, show confidence and respect.
---