Sami A. Garabedian, Director of Athletics in Beirut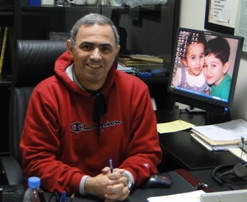 Sami Garabedian
is Director of Athletics on the Beirut campus and an instructor of physical education in the Department of Natural Sciences. He joined LAU in 1994. We asked him a few questions about the athletics department.
Tell us which sports LAU's athletics department has teams for and do these teams compete on the intercollegiate level with other colleges and universities in the region?
LAU-Beirut currently sponsors 18 men's and women's varsity sports: basketball, volleyball, soccer, tennis, table tennis, swimming, Thai kick-boxing, and taekwondo (both genders) and men's team handball and rugby league (team composed of players from both campuses). LAU, with both its campuses, is an active member of the Lebanese Federation of University Sport (FSUL) and all its teams get to compete in intercollegiate athletics against all the colleges and universities in the country in activities and championships supervised by the FSUL and also in tournaments organized by other colleges and universities. They also get to participate in international competitions in the region and neighboring countries at least once a year. Already several international tournaments are planned for 2011 including France, Spain, Czech Republic and Germany.
Does LAU offer extracurricular activities as well?
Indeed, LAU-Beirut also offers the following extracurricular activities which are open to the entire LAU community – students, faculty and staff – Aerobics, free play basketball, folk, Latin and jazz dance, fitness, table tennis, tennis, swimming and martial arts. Specific times are assigned for all of the mentioned activities and most get to meet at least twice a week.
Tell us a bit about the athletic facilities that LAU has in both Beirut and Byblos.
LAU-Beirut has a main gymnasium which is located on the lower campus next to Irwin Hall. It has four levels and is well suited to the needs of the students and the LAU community. A heated swimming pool is located in the basement level. It is 20mx12m and is frequently used for intercollegiate and other competitions.
On court level, the following are available: A wooden floor primarily used for basketball, volleyball and tennis classes and activities; men's locker rooms and showers, a multipurpose room for free play table tennis, chess, aerobics and dance classes and equipment storage room. The ladies' locker rooms and showers, a large multi-purpose activities room, the assistants' and athletic director's offices are all located on the main level. Finally, two tennis courts (with lights) are located on the roof, adjacent to the Safadi Fine Arts Building.
The fitness center, which is fully equipped with some world famous brands, is located in the basement of the LRC building (old library building).
It is worth mentioning that due to the lack of a soccer field/pitch at LAU (Beirut), we had reached a facilities exchange agreement with some area schools to make use of their fields while they use our indoor swimming pool for the purpose of their physical education classes. This has been the case for over ten years and has been working extremely well.
What sort of success have LAU athletic teams seen in recent years?
Over the years, LAU has had a lot of success with its teams on both campuses at the regional, national and international levels. The LAU Rugby League team went a perfect undefeated season in 2010 and won the Lebanese National Rugby League Championship. It also holds the record for the longest unbeaten streak which now stands at 30 matches. Locally, both LAU's have won tournaments and national titles in different sports namely futsal (indoor soccer), men's basketball, men's tennis, women's track & field, taekwondo, kick-boxing and swimming among others. On the international level, we (both) have won international tournaments in Greece, Spain and France in men's basketball and volleyball and women's basketball and table tennis (in 2007 and 2008), men's and women's basketball and men's team handball (all in 2009).
In what ways do you expect to see the athletics department grow in the future? Are there any plans to add new sports or new programs?
In the fall 2010 LAU started offering a limited number of athletic scholarships to outstanding and talented student-athletes in some sports. Our aim is to be able to increase the number steadily to attract more such talented student-athletes that can and will contribute to more successes of our athletic departments. We always strive to improve our departments by adding new programs and new sports when the need arises to accommodate and cater for the increasing number of LAU students. With the planned LAU 2010 – 2015 strategic plan, we hope to be able to add some new facilities, renovate existing ones and build a state of the art athletics complex in Byblos. Not only has LAU been a leader and pioneer in higher education, but also in intercollegiate athletics in Lebanon and the region as well, and such facilities, programs and increased scholarships can only be a testament to the university's constant quest for excellence.
---