Todd Dorman
Since 2008, LAU has made a serious effort to enhance the ways it reaches out to both longstanding alumni and prospective additions to the family. LAU Magazine was reworked to focus more on the issues facing its readers on a daily basis, while Update: Advancement was started to show the university's students and staff the importance of the advancement division. Earlier this fall, The Legacy and the Promise was launched to tell the whole community about LAU's comprehensive campaign. These new communications vehicles rely on dedicated students and staff members in Lebanon and New York, but they also rely on Todd Dorman.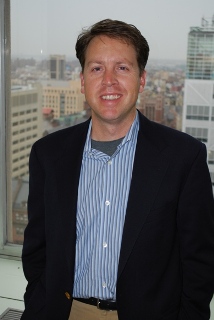 Dorman, a consultant and freelancer in New York, has worked with LAU since 2008, and has offered essential advice to the people working on the university's revamped and new publications and websites. As part of his duties with LAU, he is part of LAU Magazine's editorial board, which includes university staff members in Beirut and New York. As the magazine's managing editor, Dorman helps decide which stories and illustrations are used in each issue. He has also been influential in helping produce LAU's new e-newsletters, like Update: Advancement and The Legacy and the Promise.
Dorman's involvement in Lebanon does not rely only on the university. Many in his family have worked with educational institutions in Lebanon, working for places like the American Community School and AUB over the years. Dorman has also done writing and editing work for various clients since the 1990s. Besides working with LAU, he has collaborated with organizations as varied as the National Multiple Sclerosis Society and the American pharmaceutical company Pfizer, using his skills to help with writing assignments, editing and media strategy. In addition, Dorman has also written fiction for nearly 20 years, winning five prizes for his work during his career.
In this issue:
Join us on Facebook: