The Alumni Relations Office
The Alumni Relations Office plays an essential role in LAU's efforts, as the university continues to connect to its tens of thousands of alumni all over the world. The office is responsible for maintaining links to alumni groups and chapters, while working to make connections with additional alumni.
Abdallah Al Khal, the director of the office in Beirut, is himself a member of that family, first graduating in 1984 with a bachelor's degree and later earning and MBA from LAU. Since becoming the office's director in 2007, he has worked to explain his office's mission to old and new students alike, finding ways to make current students more aware of what the alumni network has to offer in terms of camaraderie and professional help. As a result, he and his colleagues developed the NetCommunity service for alumni online, while ushering in a growth of alumni chapters throughout the world.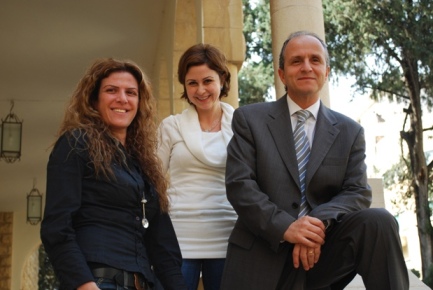 Manwa, Ghada and Abdallah.
The assistant director, Ghada Majed, also came to the office with a sense of spirit, earning a degree from LAU in 2000. Ghada has focused on helping develop a comprehensive strategy for keeping alumni involved while introducing alumni to their community. Ghada has helped the office manage publications as well as chapter and special events. Manwa Ghannoum, the office's senior alumni liaison, ensures the successful hosting of events, while ensuring good communication between her office and others throughout the university.
Together, they interact with a community of over 27,000 alumni and 29 chapters spread out all over the world. With an eye for growing in North America, they work closely with Ed Shiner, the alumni and special programs director in New York, to deepen LAU's roots there. The office will also aim to start more chapters by school, giving alumni more ways to involve and express themselves into the future.
In this issue:
Join us on Facebook: