Dr. Jabbra nurtures valuable relationships in Washington
Like most institutions, LAU relies on donors from its base of alumni and friends as well as organizations and government entities that see the university as an opportunity to improve the world. The university's status as an American school abroad means it also benefits from a long-standing relationship with American lawmakers and other government officials from the halls of congress as well as through government agencies such as the United States Agency for International Development (USAID).
President Jabbra with Director of ASHA William Yaeger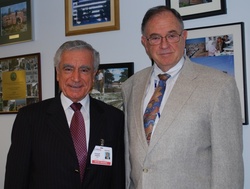 USAID specifically has worked since the 1960s to support global health initiatives, humanitarian needs and global economic and agricultural growth. As part of its mission, USAID has also supported education worldwide, through its American Schools and Hospitals Abroad Program (ASHA). The program, which has benefited 237 institutions throughout the world through a competitive application process, has been essential in spreading knowledge and resources to educational institutions and hospitals.
LAU has benefited from its relationship with USAID in many ways. LAU's recent efforts to modernize its campuses and provide its students with a 21st century educational environment have received critical support from the agency in recent years. Its support has helped the university in vital projects, like the modernization of lecture halls to include computer equipment and the construction of the Riyad Nassar Library in Beirut.
President Jabbra and Graeme Brannerman, LAU's representative in Washington, walk toward the US Capitol building for meetings last month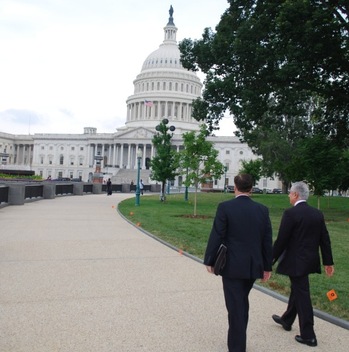 LAU maintains close communication with the agency, as well as with lawmakers and other government offices through Graeme Bannerman, an experienced representative of the university in Washington, DC as well as the work of the VP for University Advancement Richard Rumsey and President Jabbra, who makes several trips a year to the US capital with Bannerman and Rumsey to meet with congress people, members of their staffs and heads of government departments, such as the new director of ASHA William Yaeger whom the trio met last month.
With lots of turnover of elected officials, as well as the constantly shifting priorities of the US governement the work in Washington is an important and never-ending duty.
In this issue:
Join us on Facebook: