South Florida alumni now have their own chapter
The university's newest alumni chapter was born recently in Miami. For years a single Florida chapter existed to cover the entirety of this vast southern state yet, due to the fact that alumni were spread out across a large region, a single chapter simply could not manage the task well.
Members of the south Florida alumni chapter gather for a photo after a recent dinner near Miami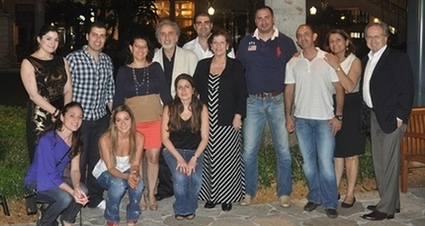 Florida alums Nadia Zahr and Elie Andary, working alongside the Director of Alumni and Special Projects Ed Shiner, took matters into their own hands and helped to get a southern-based alumni chapter formed in Florida. An initial meeting was held in late February and not long after a leadership committee was selected. The group then began planning events. Initially the chapter will be home to approximately 30 alumni.
"We have such a strong contingent of alumni in Florida and we wanted to make it as easy as possible for as many of them to participate in events as we could," Shiner said. "Creating another chapter that was based in the southern part of the state was the best option. Luckily we had the wonderful assistance of Nadia and Elie who helped the process along. It wouldn't have happened without their efforts and the work of all of our alumni in south Florida."
The new south Florida chapter will cover the Miami, Ft. Lauderdale and Palm Beach regions of the state, while the north Florida chapter will cover the Orlando area and parts north. And because both chapters were once combined and there are many friendships between the two chapters, a collaborative relationship will remain between both Florida chapters.
In this issue:
Join us on Facebook: