Introducing LAU Matters
It's called LAU Matters, and beginning this spring this newly introduced newsletter will be making its way out to friends and supporters of the university in both North America and the Middle East.
The cover of the inaugural issue of the North American version of LAU Matters which will come out soon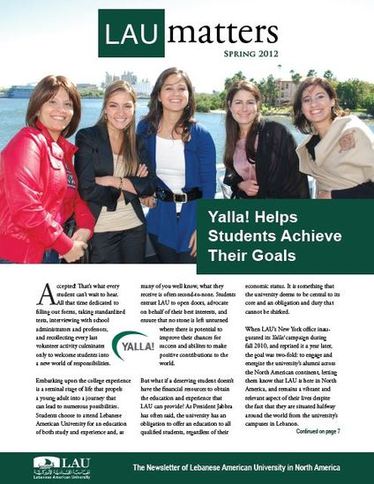 In print form, as well as online, LAU Matters is designed to serve the constituents of LAU with articles and information relevant to their geographical location in order to help them stay better connected to the university as well as become acquainted with the remarkable work being done by members of the LAU community all around the world.
Each issue of LAU Matters, which will be distributed on a quarterly basis,will be filled with brief articles, photos and information that will help LAU's friends, supporters and alumni stay informed about what LAU is doing today within their own communities. In the inaugural North American issue, for example, there is an article about Yalla! and the impact that this unique series of events which began nearly two years ago in the United States and Canada has had for students currently studying at LAU. There is also a write up about President Jabbra's recent trip to Washington, DC leading a delegation of university presidents. Meanwhile, the Middle Eastern version of LAU Matters will explore the extraordinarily successful March gala in Beirut.
Each version of LAU Matters will also cover recent events, list upcoming events in the relevant regions that they cover, and offer profiles of some extraordinary people.
"We recognize that LAU (or BUC, or BCW) means many things to many people," said Richard Rumsey, LAU's Vice President for University Advancement who has overseen the development of the publication with Advancement Communications Manager Greg Houle and the development teams in both Lebanon and New York. "With a community of alumni and supporters stretching across the planet, we wanted our supporters to know that they are never really that far away from their LAU family. LAU Matters is one of the ways in which we're hoping to continue to bring our big family closer together."
In this issue:
Join us on Facebook: