Jawdat R. Haydar Memorial Study Room inaugurated at LAU
A ceremonial ribbon was cut on December 6 to officially inaugurate the Jawdat R. Haydar Memorial Study Room in the Riyad Nassar Library at LAU Beirut. Haydar, a renowned poet, died in 2006. His life and work has previously been celebrated at LAU, most recently in 2009 to mark the third anniversary of his death.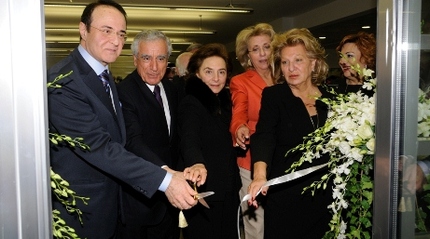 "Creating this study room is part and parcel with the vision of the university," said LAU President Dr. Joseph G. Jabbra. "It will serve as a citadel of knowledge, and a repository of traditions."
The dedication ceremony was attended by family and friends of the late poet, as well as literature scholars and university officials. In addition to their generous donation towards the building of the memorial, Haydar's family has donated some of his precious books, old manuscripts, and personal belongings, which are now housed in the study room.
A large crowd of admirers filled the corners of the library's eighth floor, as the President of the Friends of Jawdat R. Haydar Organization, Dr. Rouhi Baalbaki, addressed them about the attributes of the late poet.
"The new generation should know about the legacy of the pioneers," said Assistant Vice President for Development Nassib Nasr. Director of Riyad Nassar Library Cendrella Habre agreed, adding that "it's great to have established a dedicated room in our academic library where students can be engaged in their studies, while becoming more curious about Jawdat Haydar."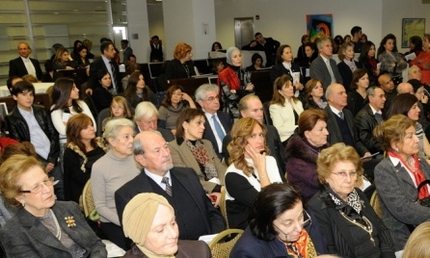 Great granddaughters of Haydar, Zein and Sima Osseiran, charmed the audience with their recitation of two poems. Zein, 12, said that she believes she inherited her passion for writing poetry from her great grandfather, and Sima, 9, referred to Haydar as "Shakespeare l'Arab" or the Shakespeare of the Arab world.
Siham Haydar Al Zein, former LAU staff member and an alumna from the class of 1958, recalled her father feelingly. "Regardless of his stature as a great philosopher, I simply miss him as a friend, as someone who always understood me. I remember sitting with him in his library, between his books, while he would read to me."
Friends toured the study room once the ribbon was cut, observing vintage personal effects such as Haydar's chair, desk and "abaya."
"This precious gift is highly symbolic and enriching," said Associate Director of Development Lana Abou Teen. "LAU students will be studying in this room, and they'll be exposed to a wealth of knowledge and culture."
Haydar, who lived to the age of 101, published numerous works in English, including four anthologies: Voices, Echoes, Shadows, and 101 Selected Poems. His poem "The Temple of Baalbeck" has been incorporated since 2000 in the Lebanese Baccalaureate curriculum in the Humanities section.
LAU's School of Arts and Sciences, in collaboration with the Haydar family and the Friends of Jawdat R. Haydar, will host an annual workshop on topics related to Haydar's life and works.
In this issue:
Join us on Facebook: