Giving just got easier
Recently LAU made it easier for its constituents to give their support to the university by developing a program that allows donors to set up
reoccurring donations through the LAU website
. Thanks to the efforts of the Associate Director of Marketing and Communications, Karina Rodriguez, the former Assistant Director of Development Paula Place and others on the Advancement team, a system was developed and implemented and has how gone live on the university's website.
Screen shot of the new online donation page with the reoccurring gift option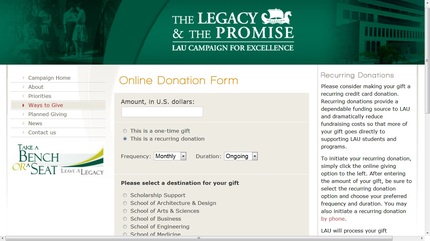 With the proliferation of broadband internet in recent years, and the fact that the web plays such a ubiquitous role in so many people's lives today, it was inevitable that instances of online giving would continue to grow in recent years. A study conducted by Blackbaud, the leading global provider of software and services designed specifically for nonprofit organizations, and the supplier of LAU's own database management system, noted that online giving grew by 35% in 2010. And there is no indication that the numbers won't continue growing sharply in years to come.
"Since last September about 17% of our gifts have been made online," said Amal Abdel Massih, LAU's Director of Advancement Services. "That is a significant increase for us over just a few years ago." The idea to allow reoccurring gifts was simply an extension of this trend, and a way to make it easier for supporters of LAU to provide gifts in a way that made sense to them personally. Donors can decide to give their gifts on a monthly, quarterly, or yearly basis; and they can decided if they'd like their gift to be ongoing or to end after one year. As with any gift, donors have the opportunity to direct where they would like their support to go, either to one of any of LAU's seven schools, directly to supporting scholarships, or they can indicate directly where they would like their gift to go.
"This is a natural progression for us," LAU's Vice President for University Advancement Rich Rumsey said. "And it's a win/win situation: we make it easier and more convenient for our friends to provide their support to us, and that opens the door for more support overall."
In this issue:
Join us on Facebook: