LAU wins $7 million life-changing grant from the US government
"This is going to change my life," says Mohamad Ibrahima an incoming nursing major from the Marjayoun district in southern Lebanon. Mohamad is one of the 52 public school-educated students offered a full scholarship to LAU that includes full tuition, fees, medical insurance, a book allowance, student housing and a stipend. It's all part of the new University Student Assistance Program (USAP) initiated by the United States Agency for International Development (USAID). The students, 63 percent of which are female, hail from 23 of Lebanon's 26 districts.
USAP students visiting campus during orientation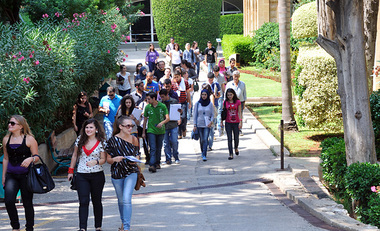 LAU won the unique $7 million grant for the first batch of students thanks to the work of a team of individuals throughout the university, including members of the Advancement division who make regular visit to Washington to meet with elected officials and staff members at USAID.
Just last week, while President Jabbra was in Washington, DC with the Vice President for University Advancement Richard Rumsey and LAU government relations consultant Graeme Bannerman, it was announced that the university had received a second award, worth nearly $7.5 million, to provide for a new round of USAP students.
"Getting this second USAP grant is symbolic of both our growing reputation as a major force to reckon with in higher education and the hard and smart work that each one of you is engaged in to make LAU a world class institution," President Jabbra wrote in an email message to the university announcing the second grant for the program.
In this issue:
Join us on Facebook: