A better news section to keep the LAU community informed
A year and a half ago, LAU's Marketing and Communications team revamped and reinvigorated LAU's main news feed, keeping its internal audience and interested visitors informed about new activities and events on campus. What began as a group effort among several members of the MARCOM team has turned into a systematic and well-organized news organization managed by Nanor Karageozian, who joined in early 2008.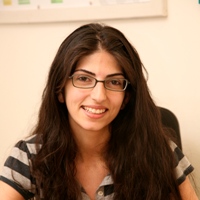 Nanor Karageozian.
Nanor, upon joining Peggy Hanna's marketing team, worked with the team to build a new procedure for discovering the good work LAU was doing, while telling people about it more quickly than in the past. As part of the relaunch of the university's website last year, the news section was also given a new chance to shine.
Now, the news section relies on a dedicated team of full-time writers, students and freelancers to get LAU's story out on cyberspace. As a part of this renewed effort, more of LAU's worldwide events and initiatives are getting the coverage they need, with writers on two continents posting several updates a week.
The new news section has gotten the notice of the university's community. Sami Baroudi, who teaches political science courses and is the Assistant Vice President for Faculty Affairs, said, "I think the news section is an important and valuable tool for keeping both our internal and external audiences aware of all of the great things that we have going on at LAU."
In this issue:
Join us on Facebook: