Focused fundraising
As the new decade approaches, LAU is refining its strategy for raising funds and awareness. The university is now adding specific development techniques to its advancement toolbox. Now, LAU can better show what each of its seven schools are doing to help students and their future professions, while attracting donors to more specific causes by assigning knowledgeable coordinators to each school. The university can also do a better job developing its initiatives by assigning full-time staff members to manage and improve the process.
The advancement team currently includes three of these school coordinators to get the word out, with a new representative for LAU's health sciences coming soon. Rami Majzoub, an alumnus who has made a career in media and sales, joined the team in the second half of 2009. Rami is working with the School of Business, the largest school in the university. Nicole Barghoud and Lana Abou Teen, who are also alumnae, are also part of the initiative, coordinating with specific programs and schools to sharpen their messages. Nicole is working with the School of Engineering, while Lana is cooperating with the School of Arts and Sciences.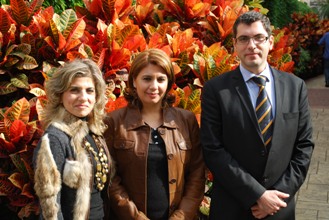 Nicole, Lana and Rami on campus.
This year, Rami, Nicole and Lana will be joined by other full-time coordinators, working with all of LAU's schools. Every school, from the largest like the business school, to the newest, like the schools for medicine and nursing, can soon count on dedicated development officer in the new decade.
In this issue:
Join us on Facebook: