New York Operations
LAU is working to build relationships, involve its alumni and graduates and raise interest as well as money on both sides of the Atlantic. These objectives rely on the dedicated staff members of the advancement division in Lebanon and America, but all of them rely on the operations staff to help them spread LAU's message and name abroad
The New York operations staff has helped do this by building the university's Manhattan office, which also serves as the U.S. headquarters for LAU. Marge Pfleiderer, the office's director of operations, serves as a conduit between the university and the U.S. government, which has provided great assistance to the university. In addition, Marge and her staff help the university by managing and providing the services their counterparts need, from dealing with vendors to making their trips to North America as smooth as possible. As a vital outpost for an American university abroad, the New York office has become an essential link between American organizations and associations and the faculty in Lebanon that maintain links with them.
The university also relies on the office's two development associates, Joanna Helou and David Pengel, to increase its presence in North America. In addition to working with their counterparts in Lebanon to provide services for alumni and donors, both of them have taken part in trade shows in 2009, including NAFSA, the trade show for international educators, and the Middle East Studies Association's conference.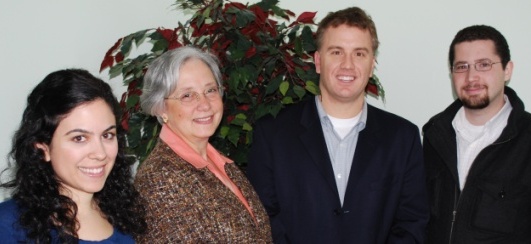 From left to right, Joanna Helou, Marge Pfleiderer, David Grosner and David Pengel.
David Grosner is one of the newest members of LAU's team, joining the New York office in the summer of 2009. David helps manage the university's vital endowment fund as the senior investment officer. Reporting to Emile Lamah, the vice president for finance in Beirut, David is helping make decisions that will affect the university's finances, researching and choosing investment opportunities for LAU. Together, the operations team in the New York headquarters is doing their part to keep the university's wheels turning.
In this issue:
Join us on Facebook: