LAU gets an online makeover for 2010 and 2011
More of LAU's schools and institutes are getting a new online presence as the New Year continues. The move to give LAU's educational websites a new, more modern look stemmed from the university's recent effort to take stock of its position in the minds of Lebanese students and consumers. The branding initiative ended with a new logo and a new seal for the university, representing its heritage. The initiative also helped spark the effort for a new, modern and unified online presence.
The Marketing and Communications office is also one of the offices showing off the university's new look. The new website is an example of the visual trademarks all of the university's websites will include, while including an interactive assembly of the office's considerable work promoting the institution in recent years. The School of Engineering, which trains its students to excel in civil engineering and industrial work, also has a new online identity.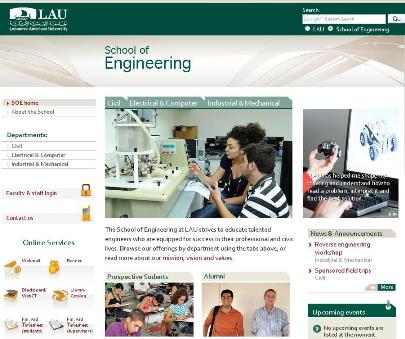 The new School of Engineering website.
The School of Arts and Sciences is also getting its makeover, with a new department getting an update every two weeks. Karina Rodriguez, the associate director at the Marketing and Communications office, explained that "for the first time it has a consolidated website that helps visitors understand our programs better, and reflects the direction the school is taking in the coming years."
The entire university will have the same treatment this and next year, with most of the schools getting more modern online presences in 2010. The School of Business, the largest at LAU, will be the last major update as part of the project. The main website will also be included, with more changes for the recently updated news and events section.
In this issue:
Join us on Facebook: