A world traveler, an Olympian, and a Harvard Ph.D. join the team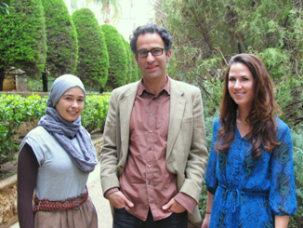 Three new team members have joined the Marketing and Communications (MarCom) group in Beirut recently. We introduce them to you here:
(from left) Ghazal Jbeily, Curtis Brown, and Emily Morris
Emily Morris
Prior to moving to Lebanon and joining LAU, Emily worked in Damascus, Syria as the regional news editor of an English-language daily newspaper, where she focused on the current socioeconomic and political issues
affecting the Middle East. In 2008-2009, she volunteered at a non-profit in rural Kenya, working closely with AIDS orphans and women living with HIV/AIDS on education, empowerment and peace-building initiatives.
Born and raised in New Hampshire, Emily received a B.S. in Journalism from Boston University in 2006 with a major in Broadcast Journalism and a minor in History. After studying abroad for a semester in Dublin, Ireland as an undergraduate, Emily knew she wanted to return to Europe to pursue a Master's degree. She chose the International and European Politics course at the University of Edinburgh in Scotland, receiving her M.Sc. in 2007.
Ghazal Jbeily
A proud graduate of LAU Ghazal joined the university on December 1, 2010 as an Administrative Assistant in MARCOM. Before coming back to her alma mater to work Ghazal spent two years working for HSBC Bank for two years. She holds both an MBA degree and BA degree in Banking and Finance.
A former competitive swimmer, from 1995 until 2006 Ghazal swam for the Jazira swimming team in Lebanon, participated in national and international events with her team. In 2004 Ghazal made LAU and her country proud by competing in the 50 meter freestyle swim for Lebanon at that year's summer Olympic Games in Athens.
Curtis Brown
As a writer, Curtis Brown has tackled a variety of subjects in his career, writing about politics, current events and culture. Curtis studied literature at the University of California, Berkeley and Harvard University, and has also taught the subject as a lecturer and student instructor to students in a variety of settings, from California to Beirut's Haigazian University. Before joining LAU, Curtis also wrote for publications in the Middle East for several years, including Lebanon's Bidoun Magazine, which focuses on art and culture in the region, and the Daily Star.
In this issue:
Join us on Facebook: